Microsoft Zune MP3 Players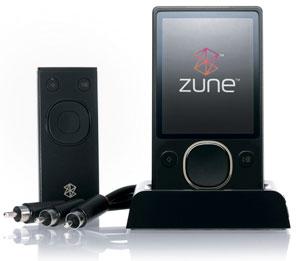 Zune Digital Media Player plays and displays your music, videos, and pictures 24x7, and unlike the iPod, it even has a built-in FM tuner.
Zune wirelessly shares full-length tracks, playlists, pictures and podcasts with other Zune friends.
Hear something you like on music, radio or video, tag it and then buy it next time you sync up.
Zune 80 GB Digital Media Player Black (2nd Generation)
In recent reviews:
Laptop magazine - called the Microsoft Zune "ambitious but half-baked."
PC World - an "intriguing mix of innovation and lack of execution."
PC Magazine - the Zune is "interesting if not compelling."
The Washington Post - calls Zune's exclusive reliance on the Zune Marketplace for protected content a "breathtaking display of corporate faithlessness, cluelessness or both."
Microsoft claims they are in the portable-player business for the long haul, not expecting this player to suddenly outsell the iPod; Microsoft , but promises great improvements in the second version due in November, 2007.
Look And Listen
Screen - Zune sports a bigger color screen size than most MP3 players, at 3.2-inch , for uncompromised portable video viewing.
Color - The lastest 1.7-ounce models [4G and 8G] are available black, pink, green and red, and sport a new rectangular shape closely resembling the Nano.
Zune also comes equipped with premium earphones, designed to block out external noise, providing superior sound and bass response.
Size - The 80G model is naturally larger at 4.5-ounce, and comes in black only.
But with an 80-GB hard drive, and slightly better ear buds than the iPod, its larger 3.2-inch screen makes it a hot competitor to the iPod Classic series.
Customization - A rather interesting customization feature is the ability to laser engrave artwork onto the devices. [Currently FREE!]
Control - The new touch-sensitive Zune Pad controller makes it easy to navigate and rapidly scroll through Zune's menus. Slide your finger up and down or right and left on the Pad or press its center or edges to make things happen. Other controls are Play/pause and back.
NOTE: free software upgrades are provided for older Zunes to enable them to take advantage of most new Zune features.
Sound quality is excellent.
Connectivity
No cables and wires with Zune. You can easily connect to your home wireless network and sync your Zune with your PC digital media collection .
You can also sync using the dock, AC adapter, or speaker dock accessory (not included).
Connect to the Zune Online Community - create a Zune card and Zune profile page to share your musical persona. Invite friends, share song recommendations, post comments, and browse member pages to discover new tunes and others who share your musical tastes.
Media
You can purchase music and load your device with new tunes, on the Zune Marketplace. With over three million songs, DRM-free MP3s, music vidoes, audio/video podcasts, and more content added every day. You can also choose between the download or subscription packages.
The Zune automatically imports TV shows or movies recorded using a PC running Windows Media Center in Windows Vista. The Zune also features a built-in FM radio tuner.
Advanced tuning capabilities display the name of the song currently playing on select frequencies.
...and the Zune is compatible with Xbox 360 to customize the soundtrack in supported games. You can also stream music, pictures and vidoes from the Zune software on your PC to your Xbox 360 console using a wireless connection.
Songs purchased from the Zune store won't play in other players. And the Zune won't play songs you've purchased from any other WMA music stores, like Rhapsody, Napster or Wal-Mart's music store, or any songs you've purchased previously -- including those purchased using Microsoft's own PlaysForSure media certification.
Controls
Great interface
Zune uses an innovated pad for browsing your music, video and picture collections.
Storage
Zune player stores up to 20,000 songs, 25,000 pictures, or 250 hours of video; based on 128 kbps WMA files, with length of 4 minutes each. Pictures transferred to Zune will automatically be optimized for Zune screen size. Video estimates are based on 500 kbps WMV files with 128 kbps WMA audio tracks.

NEW RELEASE
Microsoft has launched three new Zune MP3 players in November 2007, with some welcome software upgrades. The new versions of Zune are closer positioned to compete against the iPod Nano and the iPod Classic and from the last review of sales on Amazon - they are leading both Apple alternatives.
The proposed range and pricing will include:
4GB - $149 - available in black, red, pink, and green
8GB - $199 - available in black, red, pink, and green
80GB - $249 - available in black only
New Features
Along with all the standard features one would expect in an MP3 player, the new features that Microsoft includes in the three new models include:
Wireless Sync
Zune users will be able to sync their player to a computer over a home Wi-Fi network. Existing Zune users will be provided with a new firmware upgrade, so that they too, can have this new wireless sync feature.
Zune Social
Zune.net is the new online music community allowing users to create customizable "Zune Cards" . With a $15 monthly Zune Pass subscription, you can download unlimited tracks to three PCs or up to three Zunes.
This Web 2.0 widget automatically keeps a running log of your favorite music based on information fed to it from your computer's Zune software.
Song titles listed on Zune Carda link back to the Zune Marketplace, allowing users to share their selection with Zune buddies to preview and purchase the recommended music .
But the Marketplace has around 3 million tracks, [about half what iTunes offers].
More than a million are MP3s with NO digital rights restrictions. There is also a small selection of podcasts and music videos.
The Marketplace doesn't sell TV shows, movies or audio books, though you can watch shows synced from a Media Center PC.
Media Center
Integration with the video-recording capabilities of Microsoft's Windows Media Center platform is finally included with Zunes. If you're using Windows Media Center, or derivatives such as Windows Vista Home or Windows Vista Ultimate, you can now sync PC-recorded TV content directly to your Zune. You will have to wait and see if you can sync TivoToGo content as well.
Relaxed Music Sharing Restraints
Whilst Microsoft has relaxed the sharing of music with other Zune owners, it has yet to provide unrestricted Zune-to-Zune music sharing.
Whats Not Included
There are still some key functionality missing in the upcoming Zune launch, such as:
Wireless music and movie downloads
Internet radio streaming
Internet and e-mail support.
And you still get you superior player audio fidelity, as well as max screen size and picture quality. Will it be enough?.....wait for December for the first months sales, and we will review Zune MP3 Player again.
Find more information, find the best deal on Amazon and/or buy Zune 80 GB Digital Media Player Black (2nd Generation)