Samsung Series 7 40" LCD TV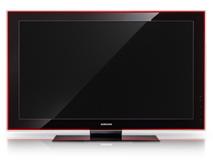 The lastest in the Samsung LCD TV Portfolio is the Series 7 40" LCD TV. And in a few words - it's an absolute stunner!
Picture Quality
Taking LCD technology to the razor edge of innovation this new model has dazzling picture quality, largely due to the backlighting design.
Rather than using the standard fluorescent tube light to shine light through the LCD display to illuminate the TV picture, the LA40A750R1M. uses white LEDs.
Not only does this give the TV a picture quality that rivals good plasmas, but it is far more energy efficient. Energy is saved not only from the LED's but also an inbuilt Energy Save Mode.
Not only are LEDs way more energy efficient (giving you a great carbon footprint argument for convincing that special financial controller in your life that you really need this TV) than previous backlighting technologies, it also produces pictures that easily rival the picture on good plasma TVs.
The LA40A750R1M also has the ability to dim or turn off selected LEDs behind areas of the screen where dark patches are being displayed. This overcomes the problem with the fluorescent versions where the fluorescent backlights stays switched on, illuminating the entire all the time, leaving on screen blacks looking charcoal.
With the Series 7 - blacks are pitch black and bright colours are brilliant to say the least.
The Series 7 sports a healthy 100Hz refresh rate Motion Plus mode that enables judder free high speed on-screen motion common on cheaper LCD TVs. This makes on screen action surprisingly life-like.
Picture Settings
The Samsung provides for laser fine tuning, starting with the usual selection of picture modes – then a whole range of additional presets, colour temperature presets white balance settings (with manual fine-tuning), noise reduction, gamma control, dynamic contrast, black adjust (which tweaks shadow detail) and well as colour level controls.
Design Aesthetics
But the wow factor doesn't stop with the back lighting technology. The Series 7 also has a very slick design form that overcomes the current trend of what I personally find a crappy plastic looking black gloss finish. Instead, Samsung have opted for an more elegant black ruby finish under a clear overlay. This results in a more sophisticated looking unit.
Connectivity & Interactive Content
This is where the Samsung Series 7 really pulls away far from it's nearest rival.
On the features side, more interactivity is featured on the Series 7, including Internet connection. And Samsung has gone one step further towards technology – content convergence in some countries, by partnering with online service providers to deliver real time news, stock and weather feeds.
More interactive content is preloaded, including games, recipes, a slide show of HD artwork, children's stories, and a fitness section.
Network Connectivity
There is also networking capability to connect to your home network via a built in Ethernet network connection. This makes displaying photos, videos, and music stored on a PC or network drive a breeze – no more need for that annoying dedicated media streaming box adding cable clutter behind your AV cabinet.
Connections
This Samsung has:
3 rear HDMI inputs - plus one side HDMI input
A PC input, a pair of component-video inputs
An antenna input for the built in Freeview HD digital TV Tuner
Additional composite AV and S-Video on the side panel
Headphone jack, and USB port on the side panel.
Remote Control
For the King of the Remote supporters, Samsung has redesigned the remote to make it more user friendly, with less disruption to current viewing when changing options.
The main control interface is a rotating jogger dial similar to the click wheel used in early iPods. Even though there is a slight delay, the extra sensitivity of the scroll wheel gives more gradual control when tweaking picture settings.
Summary
This television has everything one can hope for in a flat panel TV, and more. Its connectivity and multimedia content features go far beyond other current TVs are capable of delivering.
Key Specs
Resolution: 1080P
70,000:1 Dynamic Contrast Ratio
100Hz Refresh
4x HDMI inputs
Component, S-Video, Composite inputs
USB & Ethernet inputs
Built in Freeview HD tuner
The LA40A750R1M delivers bright, crisp images with impressive contrast levels. The finesse of the setting options make it possible to optimise the picture to receive extremely accurate colours. Combine the picture quality with the 100hz Motion Plus refresh and you have brilliantly clear, smooth on screen action.
Even the slightly sluggish remote cannot dampen the wow factor on this masterpiece.
LA40A750R1M
RRP: $3,999
Check availability of the Samsung LA40A750R1M on Amazon.com
TV Index | LCD TV | Plasma TV | Flatscreen | HDTV | Picture | Resolution | Screens | Speakers |
Home Entertainment Resources