Samsung LN-T4665F
Summary Features
The Samsung LN-T4665
Flat-panel LCD HDTV produces a clean image with accurate color, deep blacks with excellent shadow detail; and solid off-angle viewing for an LCD Television.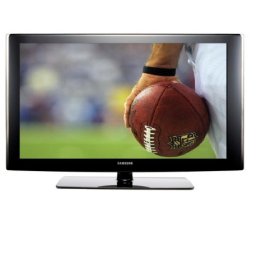 Its styling can only be described as beautiful, and with numerous picture controls; picture adjustment will surely please.
Like all shiny screen televisions, it does tend to collect excessive ambient light; with edges displaying slightly brighter than the middle in dark areas.
Overall, the picture quality of the Samsung LN-T4665
ranks highly amongst other LCD televisions.
Detail Samsung LN-T4665F Review
Image Quality
Samsung's LN-T4665F image quality is proof of the advancements in LCD technology.
Delivering one of the best pictures from any LCD TV, it compares well against the best plasma tv's on the market.
In spite of the shiny screen, the LN=T4665F outshines Sony and Sharp in a home theater environment.
The only flat-panel LCD that produces a deeper shade of black than the Samsung LN-T4665F are the Sharp LC-52D92U and LC-46D62U, which have other problems of their own. The LN-T4665F holds its own in shadow detail.
Color accuracy on the Samsung is also commendable overall.
Screen uniformity was below that of the best LCDs; most noticeable was the excessive brightness of the left and right sides of the screen compared to the middle, which is most visible in flat fields (45 IRE or lower) especially in the darkest fields.
Like any 1080p HDTV, the Samsung handles 1080p sources, both at the standard 60 and the less-common 24 frames per second.
Design
I have nothing further to add to my obvious distaste of the shiny screen - only that the trend also seems to be for pure glossy black casings as well. You either love them or hate them. I am not a supporter - I think they look cheap and plasticy, but many love the modern sleekness and warm to it exuding power.
To many, the Samsung LN-T4665F glossy frame is very attractive in its own right - the rounded corners and smoothed-out planes, subtly curved bottom edge, and the sleek, transparent speaker-sound deflectors all add to the appeal.
On a practical note, I like the trim swivel base, which allows the panel to be rotated about 20 degrees to either side.
Size
Including the stand, the LN-T4665F measures 43.6x12.8x30.2 inches. Without it, the panel measures 43.6x4.1x23.8 inches.
Remote
Samsung's slender wand remote is still a feature in this model.
Simplicity exudes, with only three keys illuminated - volume, channel, and device control.
Ease of use is considered with all of the buttons are nicely separated, with the exception of secondary controls clustered at the clicker's base, which are a bit difficult to differentiate.
Resolution
The Samsung LN-T4665F has a native resolution of 1920x1080 pixels [1080p] and has enough pixels to resolve every detail of both 1080i and 1080p HDTV sources, although it falls a bit short in some areas.
All other sources, including 720p HDTV, DVD, computer and standard-def, are scaled to fit the pixels.
Inputs
The LN-T4665F is one of the first TVs with HDMI 1.3-compatible inputs - enables the LN-T4665F to offer a menu selection labeled "xvYCC," a wider color space closer to human vision's capabilities than the current HDTV color space.
HDMI inputs - three as opposed to the standard two.
Component-video inputs
an AV input with S-video
two RF inputs for cable and antenna
VGA-style RGB input for computers (maximum resolution 1920x1080).
An additional AV input with S-video, in the side recessed bay
USB port that can interface with thumbdrives to display photos (JPEG only) and play music (MP3 only).
Picture Controls
Picture Modes - LN-T4665F comes standard with three picture modes. each independent for each input, allowing you to customize each source with three different groups of picture settings.
Color - five presets for color temperature, plus a full set of detailed color temperature controls.
Aspect ratio controls - wide range of choices including choices for HD sources. Just Scan is the mode best suited for 1080i and 1080p sources.. Standard-def sources allow four choices as well, including two zoom modes you can adjust vertically, to see subtitles or obscure tickers, for example.
Picture-in-picture - to display two channels or sources at once.
HD DVD And Blu-Ray
According to HQV on HD DVD and Blu-ray, the Samsung fails to properly de-interlace 1080i content for display on its 1080p screen. However, setting the aspect ratio to "16:9" as opposed to "Just Scan" will improve sufficient to pass the test.
Since launch, Samsung has made available a firmware update for the LN-T4661F to fix the deinterlacing of video-based, but not film-based, 1080i content and to show every line of a 1080-resolution test pattern. Current owners need to call the Service Center and ask to have it sent.
Samsung's ability to handle standard-def sources, are mediocre. The set is able to resolve every detail of the DVD format according to the color bars pattern from the HQV disc, but it had trouble smoothing out the jagged edges of rotating diagonal line. Try choosing one of the manual modes if noise is an issue. The LN-T4665F did engage 2:3 pull-down quickly and accurately.
Computer Monitor
Samsung's performance as a computer monitor, like most 1080p flat-panel LCDs, is very good. A slight bit of softness in PC text at font sizes smaller than 10-point, but this is barely detectable.
Gaming
The LN-T4665F has issues with some HDMI devices, namely the Sony PlayStation 3, only in some instances. Tests by CNET, "connected a variety of devices to the set via HDMI, including the PS3 ( both Blu-ray movies and games), high-def disc players, a DirecTV HR20, a Gefen HDMI distribution amplifier and a Radiient HDMI switch, didn't experience any issue"s.
Comparative HDTV Products
Home Entertainment Resources