Golf Driver Evaluation
March 2007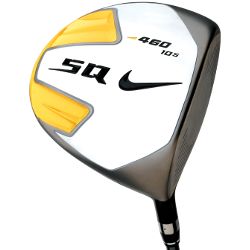 GolfTest USA provides Golf Illustrated the results of our standard golf equipment testing on an ongoing basis.
Using 10 evaluation criteria and testers with varying skill levels, based on manufacturer recommendations as to player type each club is designed for.
Player groups are generally defined as:
Low handicap golfers
Mid to high handicap golfers - Game improvement clubs
Clubs with an "Average" score 7.9 or better based on this scoring system are awarded the GolfTest USA "Seal of Excellence" award, indicating superior quality, value and performance.
CLUB PERFORMANCE
| | | | | | | |
| --- | --- | --- | --- | --- | --- | --- |
| Driver | Distance | Control | Accuracy | Forgive | Ball Flight | Overall |
| Cleveland Launcher Ti460 | 8.3 | 7.9 | 7.8 | 7.8 | 8.3 | 8.2 |
| Mizuno MX500 460 | 8.4 | 8.2 | 8.2 | 7.9 | 8.0 | 8.2 |
| Yonex Cyberstar Nanospeed 460 | 8.4 | 8.0 | 8.1 | 8.0 | 8.2 | 8.2 |
| Nike SasQuatch 460 | 8.4 | 8.1 | 8.2 | 7.9 | 8.3 | 8.1 |
| Nickent Genex 3DX T-spec 460 | 8.2 | 8.1 | 8.0 | 8.0 | 8.3 | 8.1 |
| Nickent Genex 3DX D-spec 460 | 8.1 | 8.0 | 8.0 | 8.1 | 8.1 | 8.0 |
| Yonex Cyberstar CT 460 | 8.2 | 8.1 | 8.1 | 7.9 | 8.2 | 8.0 |
| Callaway Fusion FT 3 460 | 8.4 | 8.1 | 8.0 | 7.6 | 8.2 | 8.0 |
| MacGregor MACTEC NVG 445 | 8.0 | 8.0 | 8.1 | 7.8 | 8.0 | 8.0 |
| Ping G5 460 | 7.9 | 7.8 | 7.9 | 7.7 | 7.9 | 7.9 |
| Alpha C830 2 460 | 8.1 | 7.8 | 7.9 | 7.9 | 8.1 | 7.9 |
| Playing Pro Spider 460 | 8.1 | 7.8 | 7.9 | 7.8 | 8.1 | 7.9 |
| Feel TI-Carbon 460 | 7.9 | 8.0 | 7.8 | 7.8 | 8.0 | 7.9 |
| Adams Redline RPM 460D | 8.1 | 8.1 | 8.0 | 7.7 | 8.2 | 7.8 |
| KZG Gemini 460 | 8.0 | 7.8 | 7.8 | 7.7 | 7.9 | 7.8 |
| Bridgestone J33R 460 | 8.1 | 7.7 | 7.7 | 7.6 | 8.0 | 7.8 |
| Infiniti ProPlusion Ti Comp 460 | 8.0 | 7.7 | 7.8 | 7.7 | 7.8 | 7.8 |
| Black Shark MX 460 | 8.0 | 7.9 | 7.9 | 7.9 | 7.9 | 7.8 |
| TechPower Speed Offset 460 | 7.8 | 8.0 | 8.0 | 7.8 | 7.7 | 7.9 |
| Natural Golf ST Hammer 420 | 7.9 | 7.8 | 7.7 | 7.9 | 7.8 | 7.8 |
| McHenry TourPure II 400 | 7.8 | 7.8 | 7.7 | 7.7 | 8.0 | 7.7 |
| Black Shark S.E.T. 455 | 7.8 | 7.7 | 7.8 | 7.9 | 7.7 | 7.8 |
| McHenry TourPure II 365 | 7.7 | 7.9 | 7.9 | 7.8 | 7.7 | 7.7 |
| TechPower DVF 450 | 7.9 | 7.7 | 7.7 | 7.8 | 7.9 | 7.7 |
| Vulcan Caldera 460 | 7.8 | 7.6 | 7.7 | 7.8 | 7.8 | 7.6 |
LOOK AND FEEL
| | | | | | |
| --- | --- | --- | --- | --- | --- |
| Driver | Sound | Look | Feel | Recommend | Average |
| Cleveland Launcher Ti460 | 8.1 | 8.5 | 8.5 | 8.2 | 8.2 |
| Mizuno MX500 460 | 8.1 | 8.6 | 8.4 | 8.1 | 8.2 |
| Nickent Genex 3DX T-spec 460 | 8.1 | 8.3 | 8.4 | 8.1 | 8.2 |
| Yonex Cyberstar Nanospeed 460 | 8.0 | 8.4 | 8.4 | 8.1 | 8.2 |
| Nickent Genex 3DX D-spec 460 | 7.9 | 8.2 | 8.2 | 8.0 | 8.1 |
| Yonex Cyberstar CT 460 | 7.9 | 8.2 | 8.3 | 8.0 | 8.1 |
| Callaway Fusion FT 3 460 | 7.7 | 8.0 | 8.1 | 8.1 | 8.0 |
| Ping G5 460 | 7.9 | 8.6 | 8.3 | 7.6 | 8.0 |
| Adams Redline RPM 460D | 7.7 | 8.2 | 7.9 | 7.7 | 8.0 |
| Nike SasQuatch 460 | 7.9 | 7.5 | 7.9 | 7.9 | 8.0 |
| Alpha C830 2 460 | 8.0 | 8.1 | 8.2 | 7.8 | 8.0 |
| MacGregor MACTEC NVG 445 | 7.5 | 8.2 | 8.1 | 7.9 | 8.0 |
| Playing Pro Spider 460 | 7.9 | 8.3 | 8.1 | 8.0 | 8.0 |
| Feel TI-Carbon 460 | 8.0 | 8.1 | 8.1 | 7.9 | 8.0 |
| KZG Gemini 460 | 7.7 | 8.1 | 8.0 | 7.8 | 7.9 |
| Bridgestone J33R 460 | 7.5 | 8.4 | 7.9 | 7.8 | 7.9 |
| Infiniti ProPlusion Ti Comp 460 | 7.6 | 8.5 | 7.9 | 7.6 | 7.9 |
| Black Shark MX 460 | 7.8 | 8.0 | 7.9 | 7.9 | 7.9 |
| TechPower Speed Offset 460 | 7.8 | 7.9 | 7.9 | 7.8 | 7.9 |
| Natural Golf ST Hammer 420 | 8.0 | 8.0 | 7.8 | 7.9 | 7.9 |
| McHenry TourPure II 400 | 7.9 | 7.7 | 7.9 | 7.6 | 7.8 |
| Black Shark S.E.T. 455 | 7.8 | 7.8 | 7.6 | 7.7 | 7.8 |
| McHenry TourPure II 365 | 7.7 | 7.8 | 7.6 | 7.6 | 7.8 |
| TechPower DVF 450 | 7.5 | 7.8 | 7.7 | 7.6 | 7.8 |
| Vulcan Caldera 460 | 7.5 | 7.6 | 7.8 | 7.5 | 7.7 |
As reported on GolfTestUSA
You can request evaluation on any club by contacting GolfTestUSA
More Golf Resources
Perfect Golf Swing - find out the secrets to the perfect golf swing
Golf Fitness Training - Using advanced biomechanical golf specific fitness exercises
Golf Vacations - Your resource guide to planning your golfing tour or golf vacation
Best Selling Golf Equipment