HTC Magic Google 2 A6161 Smartphone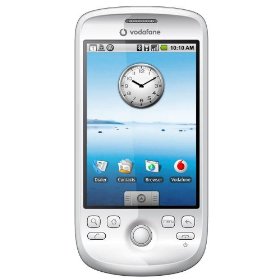 Overall Rating
4 out of 5
General Description
The HTC Magic is an Android-powered mobile with an advanced list of capabilities. Its chic design and lightweight form factor powers up a suite of Google services such as Mail, Search and Maps.
The HTC Magic is a true entertainment and media powerhouse with support for iTunes. As with any touchscreen, the HTC Magic takes a bit of getting used to but you will love it once you have a bit of experience.
Love the big type font for the contacts list!!
Form Factor
3.2-inch touch-sensitive screen - easy to drag items and icons
HVGA (320 X 480 pixel) resolution - very clear and great brightness
Lightweight - 119 grams
Onscreen keyboard - best used in landscape mode
Key Features
3.5 G - GSM 850 / 900 / 1800 / 1900, 3G HSDPA 900 / 2100
Wi-Fi with seamless transition to open networks.
Touchscreen interface - responsive and carefully thought-out
Android OS is fast and responsive
Can create a 2D barcode for quick information sharing
Can view multiple windows
Media & Apps
3.2Mpixel camera with Vdeo capture
Support for tunes via Bluetooth wireless headsets
View PDF files via included PDF Viewer
QuickOffice applications - view Microsoft Word and Excel
Microsoft Exchange ActiveSync with push email, alendar and contact synchronization with your online Google account
Power
Up to 5 hours of talk time, up to 240 hours (10 days) of standby time.
Price Range
Starts around $600 for unlocked International version, but subsidised offers vary by Telco access plan
Wishlist
What could be better on the HTC Magic?:
The search function is a bit tricky - activate by pressing the seach button and tapping the screen.
Browsing can be a bit erratic - due to connection issues
Camera lens not outstanding
Warranty on international unlocked version
Overall
The HTC Magic Android is a great competitor for Apple and Microsoft equivalents with the power to add even more application potential. Well worth checking out
Overall Rating: 4/5
Check out the best deals for the HTC Magic Android Google 2 A6161 Unlocked Smartphone - International Version (White)
Cellphone Resources
Current Top Selling Cellphones