Samsung Eternity a867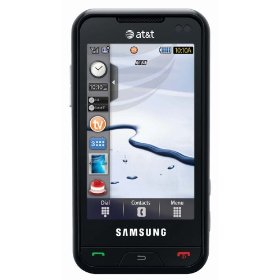 General Description
One knows phones are really getting high tech when the product description leads off with " multimedia phone with large, vivid 3.2-inch touchscreen, haptic feedback, and intuitive TouchWiz interface".
Only those pure gadget geeks know what this means, but for the rest of us, the translation means that the screen image is large, the display vivid enough to view easily in daylight and the menu is controlled by touchscreen.
The sound quality is great and call quality is better than the iPhone, making this smartphone a good alternative for those frustrated with the iPhones call quality.
Positioned in the Samsung line up as a high end PDA/Smart phone without the ability to edit office documents, this smartphone has avoided the frustrations of Window Mobile 6.1
Form Factor
Black-and-chrome
4.3 x 2.2 x 0.5 inches ; 3 ounces
3.2" screen
Key Features
3G-enabled
Compatible with AT&T Navigator GPS turn-by-turn directions
Touchscreen interface - responsive and carefully thought-out
MicroSD expansion to 8 GB at a much lower cost than the iPhone [$20 for the Samsung, compared to $199 for the Apple iPhone 8G memory]
3.5mm headphone jack
QWERTY keyboard makes it an excellent messaging device
Media & Apps
ID3-tag mp3 player w background play capability, album art display, basic EQ
AT&T Mobile Music, Video Share service, and Mobile TV
Supports personal email and instant messaging - to support gmail you need to download the application, but thats easy enough and it works well
Great calendar function
3.2-megapixel camera/camcorder
Bluetooth stereo music
Capability to add free Java apps
Browser - mediaNet but can download Opera, Firefox instead
Power
Up to 5 hours of talk time, up to 240 hours (10 days) of standby time.
Price Range
Starts of $0.01 from AT&T with $15/m access plan
Wishlist
Missing on the Samsung Eternity a867 is:
Quick and remote dial - no voice dial and speed dial
USB cable
Zoom feature
Messaging features don't integrate well
Built in flash for the camera
Overall
This phone would be a perfect 10 if it had a USB cable for computer hookup, iPhone-like zoom feature and Nokia-like reception. In spite of this, the Samsung Eternity a867 is a sexy phone from a reliable vendor. Its form factor is fantastic and the features amazing for the price. Overall Rating: 4/5
Check out the best deals for the Samsung Eternity a867 Phone, Black (AT&T)
Most popular accessories include:
AT&T Samsung Eternity A867 Car Charger
Luxurious Premium Genuine Leather Vertical Black Case Pouch Holster
Cellphone Resources
Current Top Selling Cellphones