Palm Centro Brightens Palms Smartphone Line Up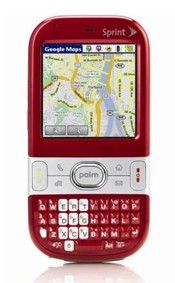 Smart - The Sprint Palm Centro Smartphone
is the first Palm smartphone since the Tungsten W, promising to smarten up Palms smartphone line.
Small - at only 4.2 x 2.1 x 0.7 inches and 4.2 ounces, Centro is Palm's smallest and lightest smartphone ever.
Affordable - And, at $99.99 with a two-year Sprint contract, the Centro is Palm's least costly model yet.
NOTE: Sprint only has 90 days exclusive on selling the Centro, so you can pick up your centro from other carriers such as Verizon Wireless, the country's largest CDMA/EV-DO carrier, and maybe Alltel, when Sprint's exclusivity period ends
This smartphone is clearly targeted at the youth market, 95 percent of the total mobile phone market.

Screen - The Palm OS-run Centro sports the standard Treo touch screen and QWERTY thumb-keyboard. The Centro's 2.2-inch touch screen supports a 320 x 320 pixel resolution and 65,000 colors.
Battery - powered by a 1150mAh removable battery to supply up to 3.5 hours talk and 3 days standby time.
Connectivity - Sprints CDMA cellular network supports high-speed cellular-broadband EV-DO data network. Dial-up-networking is via Bluetooth to use the Centro to access the Web or corporate network. Bluetooth can also be used to connect to other peripheral devices such as hands-free kits, wireless headsets, and GPS devices.
Storage - Centro comes standard with 64M of internal storage and a microSD slot for up to 4GB additional memory in a single expansion card.
Media - still digital and video using a 1.3 megapixel 2x digital zoom digital camera. Bundled Pocket Tunes Deluxe software allows you to listen to DRM-protected audio.
Email - Centro and Sprint provide a great messaging bundle with support for Microsoft Direct Push e-mail using the smartphone's VersaMail application, meaning you can access AOL, MSN, Hotmail, Gmail, and Yahoo! accounts.
Messaging - Palm's threaded SMS messaging client as well as additional support for multimedia messaging and AIM, Yahoo, and Windows Live instant messaging.
Applications - standard Palm OS applications and bundled software including the Blazer Web browser and DataViz' Documents to Go Professional 10 mobile office suite. Centro will allow you to access MySpace, YouTube, SprintTV for live and on-demand video, Yelp and Google Maps over Sprint's EV-DO network.
Sprint Plan - sign up for Sprints data plan, Sprint Power Vision packs. These range from $15 to $30 per month. The $30 a month plan includes unlimited text messaging, data access, Web browsing, e-mail, Sprint Picture Mail/Video Mail, On Demand, NFL Mobile, Sprint TV and Active Sync.
Cellphone Resources
Current Top Selling Cellphones