In round 2 of Zune versus iPod, Zune has the iPod firmly on the ropes.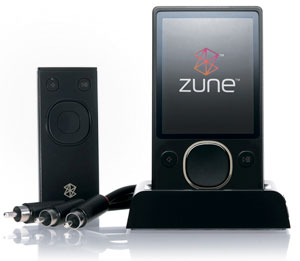 Hot on the tail of our recent updates on MP3 player reviews Microsoft have announced that Zune is outselling iPod on Amazon.com.
The heavily discounted 30G Zune was only introduced a week ago and is already ranked No.1 best seller in Amazons Electronics category, followed by Apples 4G ipod Nano and Apples 80G ipod Classic.
The 80G Zune is currently out of stock, but you can order Zune here for delivery as soon as they are available [December], so keep watching this blog for updates. Microsoft launched Zune about a year ago to mixed reveiews. However, the recently launched three new Zunes, with revamped software and a new Zune online community are proving very popular.
Microsoft is attempting to replicate the iTunes model, using the Zune players and online Zune Marketplace store. Note – Zunes don't work with Napster (NAPS), Rhapsody or other services.
The main feature changes in the latest release set include:
Relaxed restrictions on swapping music wirelessly with another Zune owner.
Podcasts and music videos are now available in the Marketplace. [Unfortunately you have to use the Microsoft Points currency — typical track costs 79 Points ; equating to the 99 cents you pay elsewhere].
Wireless synching with your PC – [some issues with older internet routers]
Overall, the new Zunes are hotter competitors to the iPod. They boast features long awaited for in an iPod, such as an integrated FM radio and monthly subscription plan that allow you listen to downloaded tracks as often as you like, provided you keep your account current.  Unfortunately no wireless sample uploads as yet.
For more details on the latest Microsoft Zune Lineup
Masher